June 11th, 2011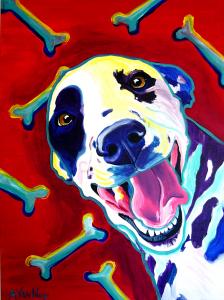 2003

"You should let me do some drawings of your animals for this blank wall here."

"Oh, no. If you do art of my animals, it needs to match my house."

*me thinking about how she repaints the interior of her house every six months, in every color of the rainbow*

"Ooookay."

Two days later she grabs the painting off of my table (don't have an easel yet) and runs next-door.

"I love it! I love it! I love it!"

My first commission: four 24x24 inch paintings at $50 each!

Fast-forward to 2011. Shipped three pieces to NC for a woman named Courtney. The paintings immortalize her pack of four. She wrote me last week: "The paintings arrived and they look fantastic!! Even our 3 year old daughter loves them, and she is hard to please! She keeps running into the dining room to look at them."

Now... 12.42 AM... I have to work on a public art installation proposal, put together a promotional packet and send out donation prints. An artist's work is never done!